Green Tee participants sport their tournament shirts and prepare to enjoy a perfect day together.
CTBC Bank (Philippines) Corp., the multi-awarded subsidiary of one of the biggest banking institutions in Taiwan, recently hosted its first CTBC Bank Green Tee Invitational Golf Tournament. Honoring its Taiwanese heritage and reflecting the Bank's corporate color in the tournament name, the "Green Tee" was organized mainly as an appreciation event for the valued clients who have entrusted their confidence and support to CTBC Bank throughout its 21 years in the Philippines.
Indeed, CTBC Bank's "We Are Family" brand promise was evident in the camaraderie among over a hundred clients and CTBC Bank officials who participated in the event, which was held at the Wack Wack Golf and Country Club in Mandaluyong City.
The tournament started with a ceremonial tee-off at the West Course, which was led by Thomas Chen, CTBC Bank Vice Chairman; Jack Lee, CTBC Bank Philippines Chairman; and Frank Shih, CTBC Bank South East Asia Region Head and CTBC Bank Philippines Director.
In his welcome remarks, Vice Chairman Thomas Chen warmly encouraged the participants to bond with each other. He expressed his hope that "all of you will have fun today and will have the chance to meet and interact with friends, business associates and fellow clients who share the same passion for golf – all in the spirit of camaraderie and fair play."
Shotgun started promptly at 8am, with a tournament format of Individual Strokeplay with handicaps applied. All the participants sported a Nike Dri Fit golf shirt and cap printed with the Bank's Green Tee logo which were part of their tournament welcome packs.
After enjoying 18 holes of golf, everyone gathered at the Banquet Hall for a sumptuous lunch while being entertained with musical numbers from an all-female band, Fourth Movement.
President Steve Tsai, in his thanksgiving message said, "Today's golf tournament is very special not only because it is our first golf tournament, but also because the Bank just celebrated 21 years in the Philippines. Throughout the years, we have been blessed with your friendship, support and partnership, and this golf tournament is our way of expressing our heartfelt appreciation to all of you."
CTBC Bank officials congratulated the winners as the tournament awards and raffle prizes were handed out. Along with trophies for the Green Tee top golfers, also at stake was the hole-in-one prize, a ClubCar Precedent i2 electric golf cart from sponsor The Turf Company. Meanwhile, the raffle prizes included a 65-inch Sony LED 4K Android TV with sound bar; a 63cm Topas Rimowa Luggage; and an 11-inch Apple MacBook Air.
The heartwarming response to the golf event makes it likely to be the first of many more to come from CTBC Bank Philippines in the future. Moreover, the Green Tee highlights the go-signal for fresh approaches to further strengthening the Bank's relationship with its valued clients. Here is one example of mixing business with pleasure where everyone goes home happy and looks forward to the next round of the event.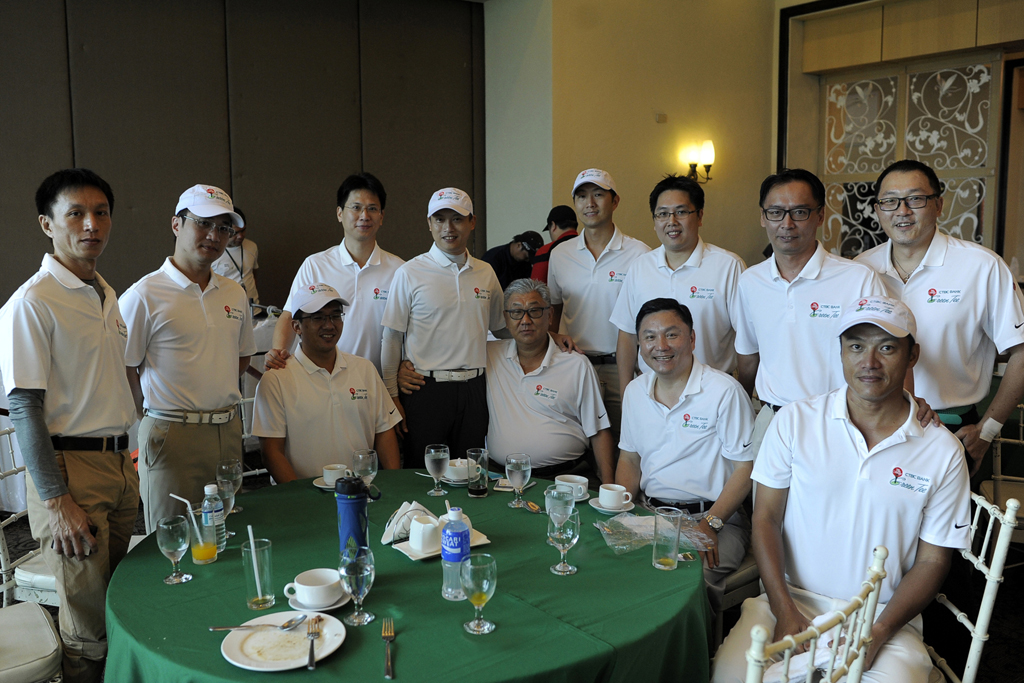 After sharing a hearty breakfast, CTBC Bank clients are raring to swing away and start the tournament.
CTBC Bank Vice Chairman Thomas Chen swings for the ceremonial tee-off shot of the 1st CTBC Bank Green Tee Invitational Golf Tournament.
In action: Class A Champion Arthur Tabuena, ICTSI Director for Treasury and Investor Relations, outshines the competition on the green.
CTBC Bank clients take a break to join Frank Shih, CTBC Bank SEA Region Head and Steve Tsai, CTBC Bank Philippines President for a quick souvenir shot.
Five lucky Green Tee participants go home with their customized CTBC Bank golf bags.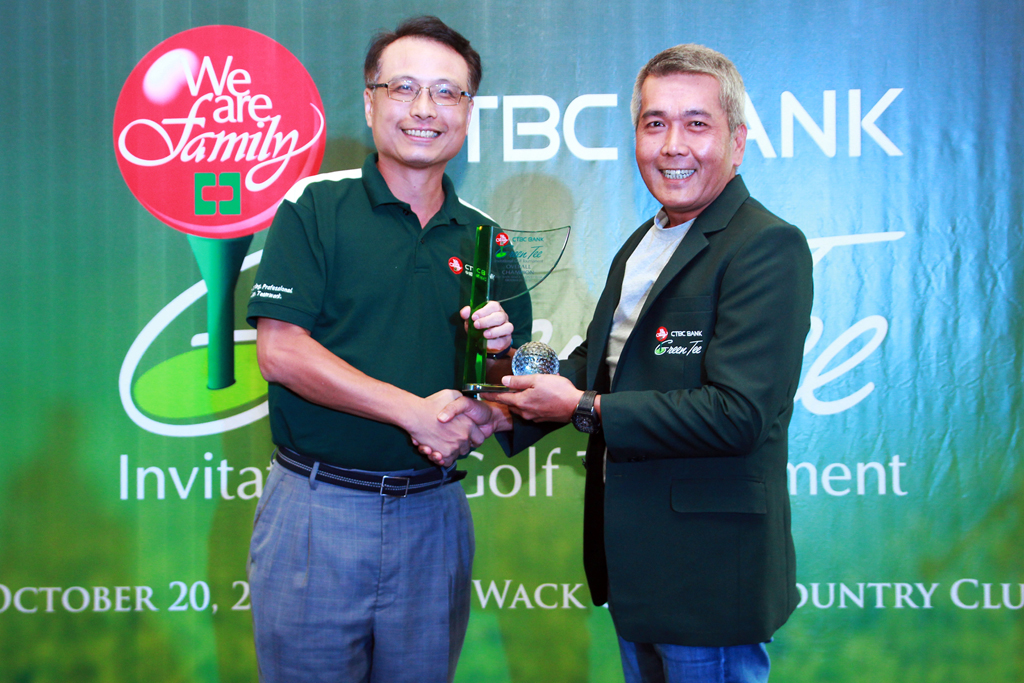 CM Pancho Construction Corp. Director Tony Pancho, enjoys the distinction of bagging the 1st Green Tee Champion's Trophy and Jacket, awarded by CTBC Bank Philippines President Steve Tsai.
Green Tee 2016 Winners
Overall Champion
Tony Pancho
Low Gross Champion
Fernando Castro
Class A
Champion
Arthur Tabuena
1st Runner-up
Mark Anthony Pizzaro
2nd Runner-up
Cyril Glenn Alcantara
Class B
Champion
Anthony Rodriguez
1st Runner-up
Rafael Prats, Jr.
2nd Runner-up
David dela Cruz
Seniors Division
Champion
Elmer Sarmiento
1st Runner-up
Elrey Ramos
2nd Runner-up
Jenson Lin
Ladies Division
Champion
Elenita Inciong
Runner-up
Maria Carmen Bella
CTBC Bank Philippines recently reaped international recognition from two well-respected London-based financial publications. The Global Banking and Finance Review (GBFR) and International Finance Magazine (IFM) cited the Bank for its leadership in the domestic retail banking industry, its pioneering product offerings, and strong corporate values.
For the second year in a row, the GBFR awarded CTBC Bank as the "Best SME Bank Philippines 2016" and further recognized the Bank as the "Fastest Growing Retail Bank Philippines 2016". The esteemed publication acknowledged the Bank's continued efforts to provide excellence in banking and its commitment to supporting business in the Philippines. GBFR Editor Wanda Rich noted that "CTBC Bank Philippines continues to invest in technology, their staff and product development to enhance customer experience. Their strategic vision and commitment to clients is reflected in the comprehensive products and solutions for SME and retail clients."
In the same manner, the IFM has adjudged CTBC Bank to be the "Best Foreign Retail Bank Philippines 2016". The Bank was selected among its competitor banks based on its core retail deposits, number of retail banking customers, operating revenues, profit vis-a-vis the cost to income ratio, and efficiency of distribution channels.
"We are truly honored to have been conferred these prestigious awards as these validate our customer-centric strategy and continuing efforts to grow our retail banking business, which allowed us to contribute to the sustained growth of the Bank," said Ismael R. Sandig, CTBC Bank Philippines Senior Executive Vice President and Retail Banking Group Head. "These achievements we owe to our loyal customers, the support of our parent bank, and our highly motivated workforce."
CTBC Bank Philippines recently held the latest of its continuing series of economic briefings exclusively for its valued clients at the Tower Club of Philamlife Tower in Makati City with Professor Solita Collas-Monsod as its Resource Speaker. The well-respected economist, broadcaster, writer and professor shared her insights on the country's economic growth from the post-WWII era up to the present in a talk entitled "The Philippine Economy: A Long (and Wide) View. Professor Monsod likewise offered her views on how the results of the forthcoming National Elections would likely affect the local economy. Photo shows CTBC Bank Philippines Chairman Jack Lee presenting Professor Monsod with a token of the Bank's appreciation. CTBC Bank Philippines (formerly known as Chinatrust Philippines) is a subsidiary of CTBC Bank which is the biggest and most awarded financial institution in Taiwan. With 24 branches in the country, CTBC Bank Philippines has the distinction of having one of the largest branch networks among foreign banks in the Philippines.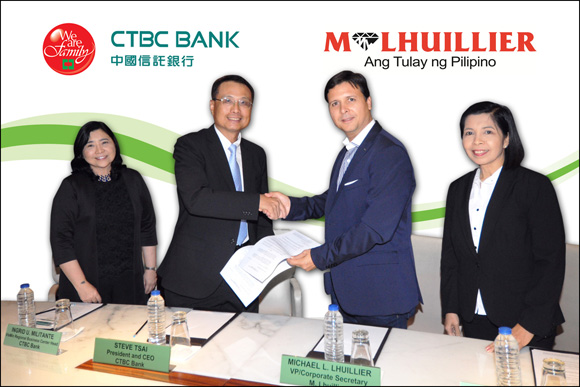 CTBC Bank (Philippines) Corp. and M. Lhuillier Financial Services, Inc. recently forged a memorandum of agreement (MOA) opening more and better payment and collection options for the clients of both institutions. M. Lhuillier has been enlisted to accept over-the-counter cash payments from borrowers of the Bank's "Salary Stretch" Personal Loan product. With the financial leader's network of 1,850 branches nationwide to add to the Bank's other existing payment outlets, CTBC Bank's borrowers now have more convenient means of meeting loan repayments. Signing the MOA are CTBC Bank president and Chief Executive Officer (CEO) Steve Tsai (second from left) and M. Lhuillier Executive Vice-President Michael L. Lhuillier (third from left). With them are CTBC Bank's Ingrid U. Militante, First Vice-President for Institutional Banking Group and Cecile B. Lumapas, M. Lhuillier Financial Services Division Head.