CTBC Bank Philippines' senior officials led by its Chairman, Cheng-Hsin Wang, recently paid a courtesy visit to current Monetary Board member and incoming Governor Felipe M. Medalla of the Bangko Sentral ng Pilipinas (BSP). During the courtesy call, Chairman Wang expressed his appreciation to the BSP for the valuable support and guidance extended to CTBC Bank in its twenty six (26) years of banking service in the Philippines. Both sides also took the opportunity to exchange views which aimed to forge a stronger collaboration between the Bank and the regulatory body. CTBC Bank Philippines is a subsidiary of CTBC Bank which is the biggest and most awarded financial institution in Taiwan. With twenty-five (25) branches in the country, CTBC Bank Philippines has the distinction of having one of the largest branch networks among foreign banks in the Philippines. Present during the visit are (from left): CTBC Bank Philippines President and CEO Oliver D. Jimeno, incoming BSP Governor Medalla, CTBC Bank Philippines Chairman Wang, and Deputy CEO Arthur Wang.
CTBC Bank (Philippines) Corp., a subsidiary of the largest and most-awarded private bank in Taiwan, recently turned over an Advance Life Support Ambulance to the Philippine General Hospital (PGH), a tertiary state-owned and biggest COVID-19 referral hospital in the country. The brand new ambulance which is fully equipped with life support capabilities is for the use of the Department of Emergency Medicine of the PGH to help the hospital transport critically ill patients and provide emergency first response care for them while enroute to the emergency room.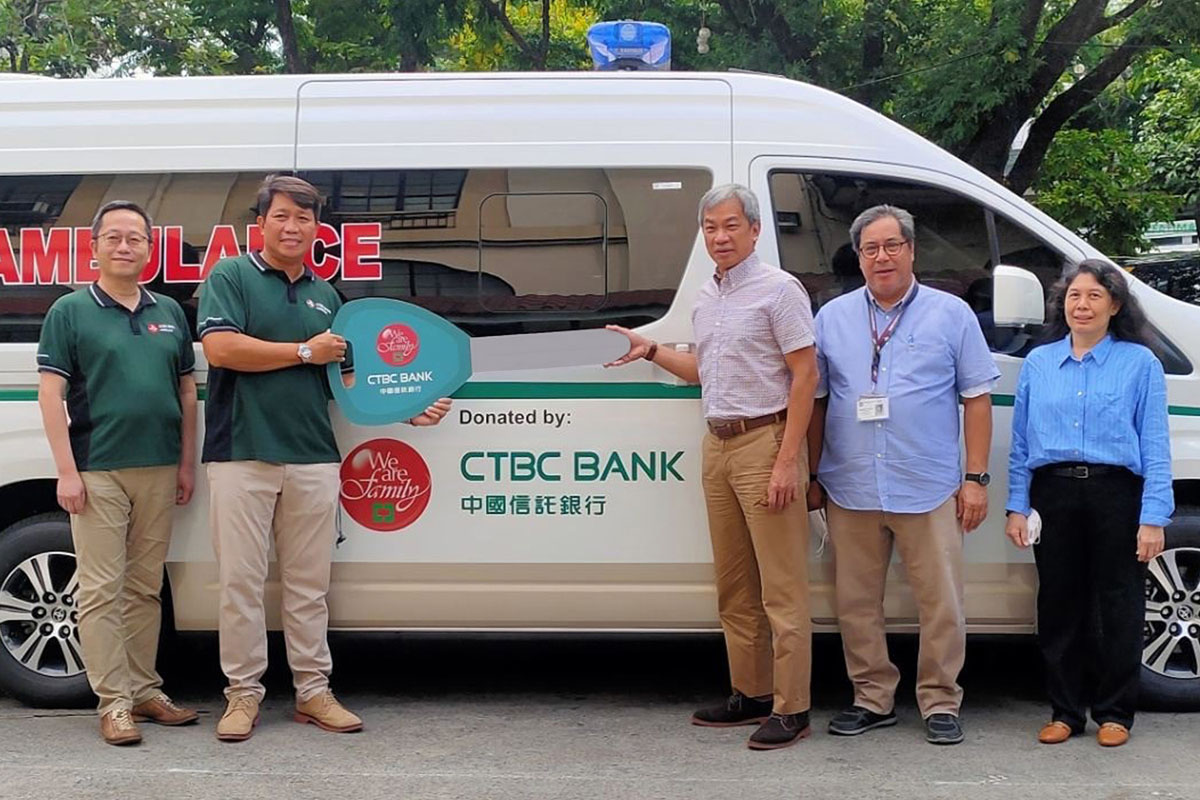 Photo shows CTBC Bank Philippines senior officials (from left): Deputy CEO Arthur Wang and President and CEO Oliver Jimeno handing over the ceremonial key to PGH Director Dr. Gerardo Legaspi and PGH Emergency Department Chairman Dr. Ted Herbosa. Also witnessing the turnover is Executive Director Ma. Lourdes Dela Rea (rightmost) of the PGH Medical Foundation, Inc., a non-profit organization that served as the conduit of the donation.